Clogged Pores
Went for a facial yesterday and boy must i admit.. IT WAS FANTASTIC (Minus the squeezing, of course)!


It's been a really long while since i last had a facial done. I'm usually skeptical of facials because my skin is quite sensitive and can react adversely to certain products. Still, i went ahead to get it done. I was in dire need of getting all those clogged pores unclogged.


3 years leh! My black heads were REALLY showing, pimples were popping, skin looked dull and worse..my SK-II products weren't being absorbed as well as that should have been!


Everyone should get your facials done often (once a month is sufficent), because no matter how fantastic your home-use skincare products are, it will not get absorbed properly if your pores are clogged to begin with.


I hope i practice what i preach. Hahaha. Yes i know, facials can be expensive..


Gone were the days where i used to pay $30 for facials. I used to go to Beauty 21 at UOL Building in Somerset, but the building has since been demolished and they have relocated to Faber House instead.


I had stopped going to them because:
1. They squeezed really hard, despite me telling them it's painful;
2. The squeezing left unsightly red marks on my face even 3 days after the facial;
3. I fell out with the girlfriend whom i used to go facials together with.


But you know, the facial salon was good because:
1. They use Lancome products, no less!;
2. You can use their Lancome make-up to touch up your face after the facial;
3. They were located just beside Somerset MRT, sooooo convenient!


The good and the bad... Anyway i happened to run out of cash really bad that time, so i stopped going for facials. Since it was more of a sordid experience rather than one that was not, i stopped permanently.


Funny thing is, i checked with my sis where she does her facials at. And guess what?


.
.
.
.
.


It's the very same place i used to get mine done. Hahahaha. Funny, isn't it?


Anyway, i got my facial done at a salon in Toa Payoh. Looks quite "lok kok" from the outside.. I mean, what do you expect from neighbourhood salons? The place was so small! There were only three beds, and each bed was separated by a curtain.



The outside of the salon
My sis gave me the funny look when i told her i went to a salon in Toa Payoh for facial. Haha. Imagine, all the Aunties in shorts and slippers going there too.. Haha. But hey, they use
PETER THOMAS ROTH
! A brand raved about by my sister and many others.
Here it is:
http://www.drugstore.com/templates/brand/defa
ult.asp?brand=9853&trx=BCSBB
I found this place through an online forum, just in case you wanted to know. The reviews for this salon was good, therefore i decided to give it a try.
Some other person arrived before me and wanted to trim her brows, so i had to wait about 15 minutes despite me arriving ON TIME (for a first! hah!). I went in at last after the beautician apologised profusely, and was asked to STRIP my top and my brassiere off and don a
batik
tube dress looking thingy.
So straightforward ah? STRIP?!
After changing, i laid down on the bed. The beautician who served me was actually the lady boss, Celest. She analysed my face, and asked me (like how a plastic surgeon would) "what would you like to see improved after the facial?" I told her my primary concerns would be my stupid clogged pores.
*pointed to my nose and t-zone area*
"I have a strawberry nose."
She explained to me about enzyme and AHA peels and some basic stuff about your skin and taking care of it. For a moment, i wanted to just cut 2 eye holes in a paper bag and put it over my head just so that people would not know my facial flaws. But hey, she's a beautician. She's trained to spot flaws!
Celest recommended that i do the mildest level of facial peel, then see how my skin reacts to it after that. I was abit apprehensive about it since my skin is quite sensitive, but hey, it's for beauty's sake! I went ahead with it.
I AM VAIN. But, who isn't?
I didn't wear any make-up to the salon, so she just used a normal cleanser on me. Massage massage massage... It felt soothing, and oh-so-away from the hustle and bustle.
Bliss!
Then i knew why i had to change into the tube dress - she did the cleansing routine all the way down to my shoulders as well!
Next up was the peel. On the more stubborn blackheads-ridden area, she applied the stronger AHA peel, while on the other parts of my face, she applied the enzyme peel. I felt a slight tingling sensation, but it wasn't painful. Don't ask me if my face was red, cos obviously i can't see myself right? Hahaha...
After about 5 minutes, she cleaned the stuff off and the normal steaming of the face started. (As far as i can remember, the was the process. I think. You'll understand why later...) She then did a manual extraction of my blackheads and this silly pimple which popped out just 2 days ago. The pain from the extraction was gone as soon as it came, but that's the part i hate-and-love of facials. Who in this freakin' world likes pain???
On came some soothing lotion, which smelt like calamine lotion. While that was on and waiting to be taken off, she trimmed my eyebrows in the meantime. Ah, yes...Then came the best part - MASSAGE! When she told me she was gonna do the massage, i thought to myself "oh, no mask ah?"
She applied toner and then put some serum thingy on my face, and happily smothered it on my neck and shoulders as well. And then, massage massage massage... Away from the pain of extraction, this was the total opposite. I could actually relax! She massaged my whole face until i fell asleep! When i woke up, she was STILL massaging me, except that her hands moved onto my shoulders. You wouldn't believe it, i even had a scalp massage after that!
It was even better than bliss; it was seventh heaven!
How not to fall asleep? =)
The massaging part probably took like 20 minutes!!
It was damn shiok lor!
She put a gauze on my face, then on came the cold mask. When i say cold, i mean COLD. It felt icy, and maybe it was due to the ingredients. I was very sure that i smelt mint. It was supposed to soothe the redness of my face from the extraction.
I had the mask on for about 15 minutes, then it was removed. She grabbed a mirror out for me, so that i could take a look at my skin. It was a lil pinky and thank goodness it wasn't tomato red. I could still go out to see the world after that. Hahaha. She applied some moisturiser for me after that, and it ended with a 1 minute back massage.
2 Hours facial FWAH!
Since i was a first timer at the salon, i was given a special rate. Make a guess how much i paid for the facial?
.
.
.
Guess lah!
.
.
.
All for $50! Hehehe... Good deal right? The usual price is at $50 for a basic facial, and $90 for a facial with an AHA peel. The service was
good
great, minus the wait, and i thought the products worked well on my skin too. Value for money too, considering the massage really untied all the knots in my shoulders and it lulled me to sleep! Rest assured, i'll go there again.
Will you too? =)
Here's their address:
Celestial de Beauty
72 Toa Payoh Lorong 5
#01-578
Singapore 310072
Think i forgot to mention a very important factor.. They didn't try to push their products, nor did they try to push packages at me. I left the place a very happy person. =)
***
Time for pictures!
Baby was so sweet.. While waiting for me to be done with my facial, he ran all the way to an old Katong Shopping Centre bakery to get me these...

Chocolate Tart

Coconut Tart

Donuts on a Stick
Then came our dinner...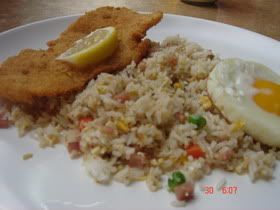 My Fish Cutlet with Fried Rice

The place we had dinner at

Baby's Chicken Chop with a Fried Ball of Mashed Potato
Their Mashed Potato ball is fantastic. Highly recommended to anyone who loves Western Food,
kopitiam
style!
Uno Beef House
is located in the coffee shop of:
51 Lorong 5 Toa Payoh
Singapore 310051